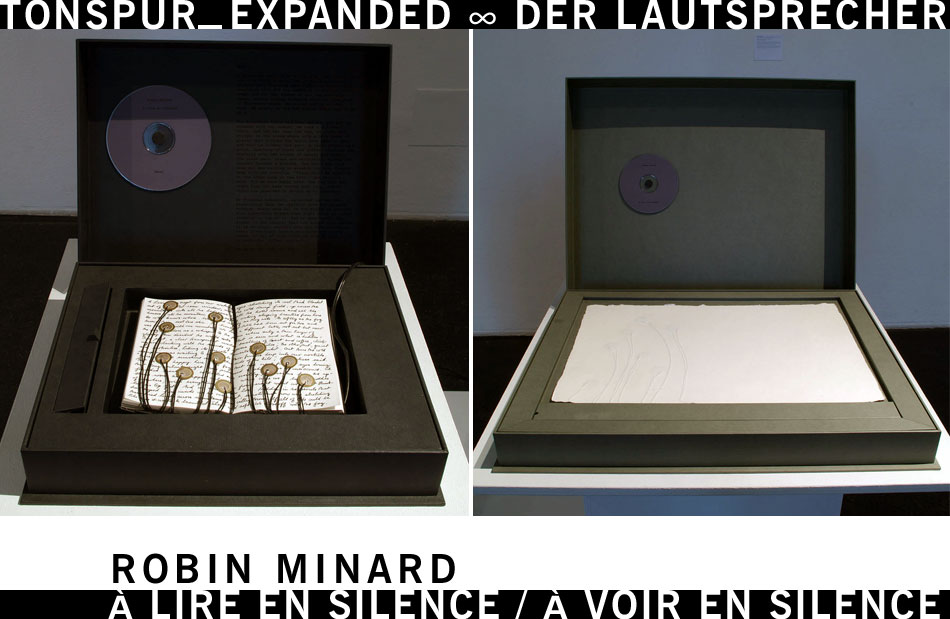 Robin Minard
* 1953 in Montréal, Canada



à lire en silence / à voir en silence


2006, works on paper

Gesang, Musik, Text auf Papier notiert sind still. Mit diesen Arbeiten aus einer Edition von insgesamt sieben Büchern verweist der Künstler auf eine besondere Verbindung zwischen Auge und Ohr: das lesende Auge steht in Verbindung mit dem hörenden inneren Ohr. 'à lire en silence' [im Stillen zu sehen] umfasst Notizhefte, auf dessen Seiten Piezolautsprecher geheftet sind. In einer zweiten Serie 'à voir en silence' [im Stillen zu lesen] wurden die Piezolautsprecher bereits bei der Papierherstellung miteingearbeitet. Beide Arbeiten laden zu einem sehr persönlichen Hör- und Seherlebnis ein.
Song, music and text noted on paper are silent. With this work from an edition of seven books the artist alludes to a special connection between the eye and the ear: the reading eye links to the inner-ear. 'à lire en silence' includes notebooks with Piezoelectric speakers stapled to the pages. In a second series, 'à voir en silence', the speakers have been worked into sheets of paper during manufacture. Both works invite visitors to share in a very personal visual and auditory experience.