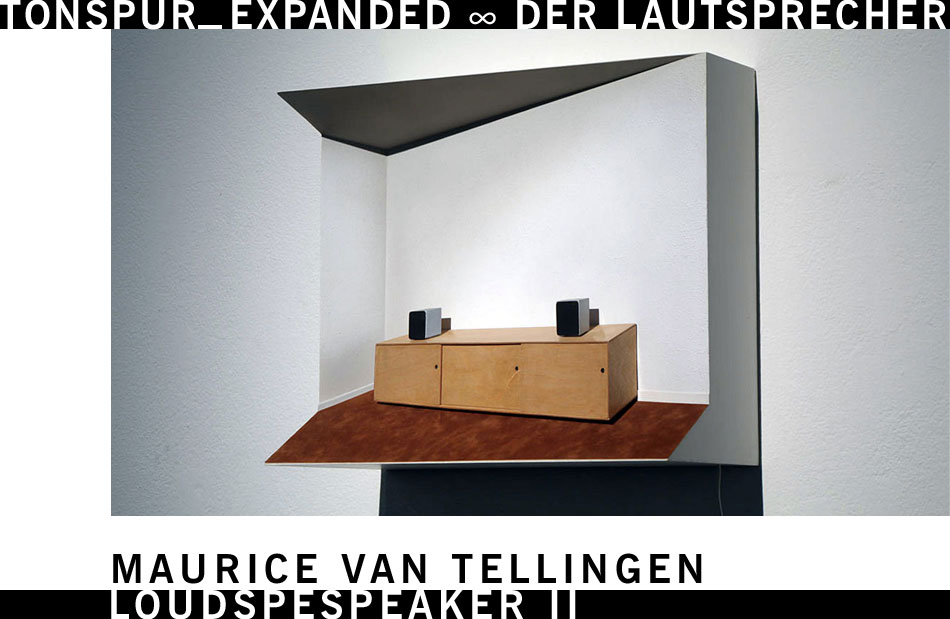 Maurice van Tellingen
* 1957 in Hilversum, Netherlands



Loudspeaker II


2005, three-dimensional model with sound
courtesy Ron Mandos Gallery, Amsterdam

Kunstwerke entstehen aus der Notwendigkeit Realität künstlerisch zu durchbrechen. Maurice van Tellingen gelingt das mit seinen dreidimensionalen Modellen. Sie erzeugen zugleich Distanz und Intimität zwischen Betrachter und Objekt. In der Ausstellung zu sehen: zwei kleine Lautsprecher auf einem typischen Sideboard: Daraus zu hören: Ludwig van Beethovens 3. Sinfonie, die 'Eroica' [uraufgeführt 1804 in Wien].



Artworks are the product of the real necessity reality for artistic breakthroughs. Maurice van Tellingen achieves precisely this with his three-dimensional models. They simultaneously create distance and intimacy between the viewer and the object. To be seen in the show: two small speakers on a typical domestic sideboard. To be heard coming from these: Ludwig van Beethoven's 3rd Symphony, 'Eroica' [premiered in Vienna in 1804].